Date
Mar 15 2023
Expired!
An Evening with Gillian Higgins: Horses Inside Out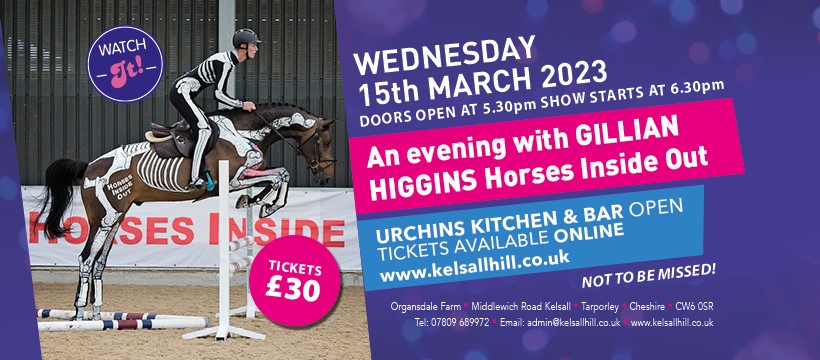 A live painted horse lecture demonstration with Gillian Higgins, Posture and Performance.
Get the opportunity to improve your riding, training and equine management with this live painted horse, interactive lecture demonstration with Gillian Higgins. Learn how understanding about anatomy and biomechanics can help to improve your horse's posture, movement, comfort and performance. Marvel at the impressive movements and performance of our anatomically painted horses. Appreciate how different exercises and techniques affect their way of going and performance. This is an evening not to be missed.
Tickets: Tickets price at £30.00
Location: Kelsall Hill Equestrian Centre, Grand Stand Indoor Arena.
Time: Doors open at 5.30pm | Part 1: 6.30pm until 7.30pm | Break: 7.30pm until 8.15pm | Part 2: 8.15pm until 9.30pm
Part 1: Anatomical Connections
To start the lecture demo, Gillian explains the role of the horse's skeleton and muscles, using anatomical paintings on the horse to help your understanding. You'll also gain a valuable insight into the principles of anatomy and biomechanics related to improving the horse's posture, movement and performance.
Using a variety of in-hand exercises and movements Gillian will show you the range of movement available to the horse and explains the impact on the horse's movement and performance if he is restricted in his joints and muscles.
Break During the break you'll have the opportunity to ask Gillian questions and study the bones and anatomical models of the horse to further your learning.
Part 2: Anatomy in Motion
The second half is a ridden demonstration and looks at the horse in motion on the lunge, performing dressage movements, over poles and doing gymnastic jumping exercises. The rider will be wearing a skeleton body suit giving you the opportunity to study and understand how the rider's posture and position can have a positive and negative influence on the horse. This section of the lecture demonstration is jam-packed full of practical exercises, techniques and top tips that you can do with your own horse to improve his musculoskeletal health and performance.
Refreshments are available from Urchins Kitchen including hot and cold food, drinks and a licenced bar from 3:30pm, during the intermission and afterwards.